The status of Fellow is one of the highest distinctions a PSA member can achieve. The election to Fellow recognizes members of the Poultry Science Association for professional distinction and contributions to the field of poultry science and service to the Poultry Science Association. Not more than five members may be elected as Fellows at any one annual meeting. A two-thirds majority vote by the Board of Directors is required to elect any nominee as Fellow.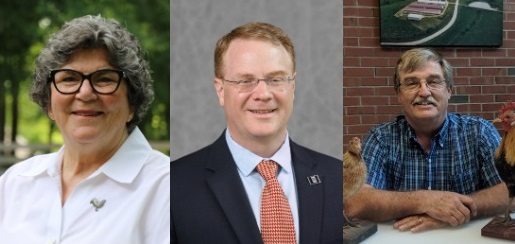 Jeanna Louise Wilson grew up in Boones Mill, VA on a beef cattle farm and was heavily involved in 4H as a teen. She started her college career in Animal Science at Virginia Tech, but found Poultry Science because of her involvement in 4H where she placed 3rd nationally in Chicken Barbeque. Jeanna received her B.S. degree in Poultry Science and a double major in Animal Science in 1980. She competed her M.S. degree at Virginia Tech with Dr. Bill Weaver in Broiler Management in 1982. Jeanna was privileged to be mentored by Bill and learned a love of helping people through what would be her future career in Extension. Jeanna completed her Ph.D. with Dr. Gaynor McDaniel at Auburn University in 1987 and developed a life-long passion for working with broiler breeders. In 1988, she joined the faculty at the University of Georgia as an Assistant Professor and Extension Specialist. Jeanna has worked with poultry companies, primary breeders and allied industry to improve broiler breeder performance through field research, problem solving, and applied research. Jeanna has mentored 15 graduate students, published 83 journal articles, 165 abstracts and presented more than 270 talks across the US in more than 20 countries. Along the way, Jeanna was promoted to Professor and continues to pass along her knowledge of breeder and hatchery management to undergraduates in Advance Poultry Production class. In 2005, Jeanna was recognized by Phibro Animal Health National Extension award , and has received two of the University of Georgia's highest awards by receiving the Walter B. Hill Award for Excellence in Public Service in 2007, and the D. W. Brooks Award for Excellence in Extension in 2008.
Todd J. Applegate, grew up in a small farming community in South-western Iowa. He obtained his BS and MS in Animal Science from Iowa State University, and became introduced to the poultry Sector by Jerry Sell late in his undergraduate degree. He obtained his PhD from Ohio State University under the direction of Mike Lilburn, and continued on as post-doc at the University of Maryland with Roselina Angel. He then served on faculty at Purdue University where he developed an active and collaborative research and outreach program, rising to the rank of Professor in 2010. His work has two main foci, maximizing nutrient use and minimizing nutrient excretion into the environment, as well as impact of stressors, pathogens, and toxins on gastro-intestinal function and physiological responses. In 2016, he became Head of the Department of Poultry Science at the University of Georgia, where he is responsible for recruiting and building teams of faculty and students to prepare the next generation of leaders in poultry, fostering innovation and outreach on issues facing the poultry sector. During his career, he has published 128 journal articles, 193 abstracts, 97 conference proceedings, 21 Extension publications, edited 2 books, and been invited to give 155 talks throughout the US and 23 additional countries. He has mentored 17 graduate students, served on an additional 40 graduate student committees, and hosted 23 post-doctorates and visiting scholars. Todd has served as a Director on the Board of Directors for PSA from 2006 to 2009, and again on the Executive Board from 2012 to 2016 having been President during 2014-15. During his career, he has been an avid reviewer for both Poultry Science and Journal of Poultry Research for several years.
Kenneth E. Anderson, Professor and Extension Specialist, Prestage Department of Poultry Science, North Carolina State University has been on faculty since 1990. Ken Anderson was raised on a poultry layer farm near Morris, IL. He attended Southern Illinois University- Carbondale and worked at the SIU-C Poultry Research Unit throughout his undergraduate years. He graduated with his BS in Animal and Agricultural Industries in December 1979. Following graduation he accepted the position of General Manager of State Line Egg Producers Cooperative, Inc., Beatrice, NE a Poultry Cooperative headquartered in Kansas from 1980 to 1983. He then accepted the position of Superintendent at the T.B. Avery Poultry Research Unit and Instructor in the Department of Animal Science at Kansas State University. He completed his master's in 1987 and Doctoral degree in 1990 in Poultry Management under the supervision of Dr. Albert Adams. While at Kansas State University, he had the privilege and opportunity to work with Dr. James V. Craig on a number of animal behavior research projects and co-authored several papers with Dr. Craig.
Part of Dr. Anderson's responsibilities include Extension programs in laying hen husbandry, research serving as the Director of the North Carolina Layer Performance and Management Test, and teaching 2 classes in Live Poultry and Poultry Product Evaluation, Grading, and Inspection and Commercial Egg Production. He has guided the development of NCLP&MT research programs at the Piedmont Research Station to include free range, cage-free, enriched colony cage, enrichable colony cage and conventional cage production and maintained the test as one of only three in the world and the only one of its size and scope. Dr. Anderson's research has focused on the influence of management on commercial layer strains in a wide range of production systems. He has also worked on the development of layer behavior profiles in cages when subjected to differing molt programs and investigated shell egg processing methods. He continues to assess production densities that now include various cage systems, floor, and range paddocks. During the past 28 years, Dr. Anderson has authored or co-authored over 115 peer-reviewed journal publications, 181 abstracts, 83 Extension articles and NC Layer Management Test Reports, and several other miscellaneous publications. He has also co-authored 9 book chapters and has been invited nationally and internationally to approximately 181 conference presentations with proceedings, and over 125 extension-type presentations at industry meetings.
Dr. Anderson received in 2019 the he received the NCACES Outstanding Subject Matter Program Team Award: Egg Industry training program on "Ventilation Shutdown Plus (VSD+) Training" and the USPOULTRY: Dr. Charles Beard Research Excellence Award, In recognition of outstanding Research for the Poultry Industry. In 2018, the CAST Educational Materials Award, Certificate of Excellence for all of the authors efforts in creation of "Impact of Free-range Poultry Production Systems on Animal Health, Human Health, Productivity, Environment, Food Safety, and Animal Welfare Issues" . In 2017 the NC Egg Assn. recognized him as "A Good Egg". Dr Anderson was awarded the Poultry Science Poultry Welfare Research Award (2012) and Association Phibro Extension Award (2003) for his professional accomplishments. He has been elected to Sigma Xi, The Scientific Research Society, Phi Tau Sigma, The Honor Society for Food Science, and Epsilon Sigma Phi, National Honorary Extension Fraternity. Dr. Anderson has served NC State University as an IACUC member for 20 years and chaired the committee for four years. In addition, he has served on the Animal Care Committee of the Poultry Science Association and as a representative on the AAALAC Board of Trustees and now House of Delegates for 18 years. Currently, Dr. Anderson is currently serving on the AAALAC Board of Directors as Secretary. He is a founding association representative for PSA on the Board of the Professional Animal Auditor Certification Organization, Inc., (PAACO) where he serves as Secretary of the BOD. Dr. Anderson has also served on the boards of the National Egg Products School and National Egg Quality School. He is also a member of the Animal Welfare Scientific Advisory Committee for Humane Farm Animal Care.