Novus to present essential oil research during virtual IPSF this month
Published:
January 19, 2021
Source :
Novus International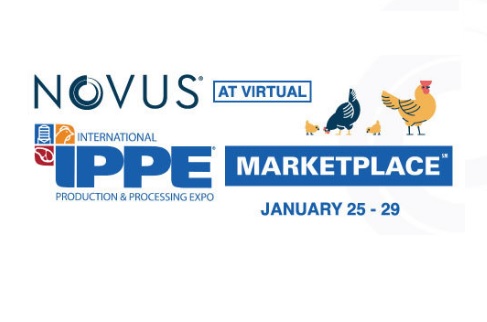 SAINT CHARLES, MO (January 18, 2020) – Essential oils have shown to be an effective tool for poultry producers looking to both improve performance and gut health during health challenges. Novus International, Inc. will present new research on its essential oil blend during the International Poultry Scientific Forum (IPSF), January 25- 29.
Novus Senior Poultry Research Scientist Frances Yan is presenting her research titled, "Efficacy of an essential oil blend alone or combined with a coccidiosis vaccine against Eimeria challenge in broilers" during the event. The trial looks at how Novus's NEXT ENHANCE® 150 feed additive and the vaccine for parasitic disease coccidiosis impact one another and their host bird.
"Coccidiosis is a disease of great economic significance caused by protozoan parasite of the Eimeria genus," Yan said. "The poultry industry takes a prophylactic approach to manage coccidiosis and minimize its consequences by either including anticoccidial drugs or administering vaccines to chicks." The concern is whether the efficacy of essential oils and/or vaccines is impacted when used in combination.
The trial found that NEXT ENHANCE® 150 increased body weight prior to the coccidiosis challenge and improved - feed conversion ratio throughout. The vaccine did as it is expected – reduced oocyst shedding and improved body weight and feed conversion ratio during the challenge phase. Yan noted that these results were significant.
"This was our first trial investigating the interaction between essential oils and coccidiosis vaccine in broilers," she said. "Our trial showed the efficacy of essential oils and coccidiosis vaccine and demonstrated that they can be used together without compromising one another." Held in conjunction with the International Production and Processing Expo (IPPE) each year, IPSF is the opportunity for poultry researchers to share their latest findings and learn from peers. The event is hosted by the Southern Poultry Science Society and the Southern Conference on Avian Disease.
Both IPSF and IPPE are being held virtually this year due to the pandemic. Yan's poster will be available to view during the event at
www.ippexpo.org/ipsf.
All participants must register for a fee on the website by January 21.
Source
Novus International
Related topics
Mentioned in this news release:
Would you like to discuss another topic? Create a new post to engage with experts in the community.
Create a post