How to achieve perfect dosing of micro-ingredients?
Published:
February 23, 2022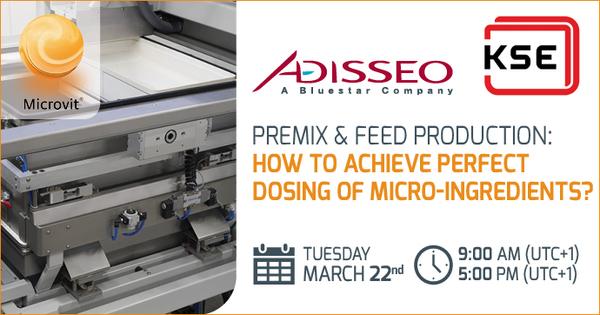 We are pleased to invite you to the Webinar by Adisseo and KSE, a remote event during which both companies will share their expertise about best practices on the efficient dosing of micro-Ingredients in feed & premix plant. The webinar will be presented in English and the duration is about 1 hour for each session.
Hosted by: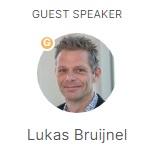 Lukas Bruijnel
Senior Consultant & Process Specialist @ KSE Process Technology
Graduated in 1984 in feed and milling technology and has been active in the feed and premix industry ever since. After almost 25 years of experience in several Dutch feed mills, holding various jobs from production manager to project manager and always a trouble shooter, Lukas joined KSE Process Technology in 2009 as independent senior consultant. His specialty is powder dosing in which he has profound experience and considered to be a leading bearer of knowledge.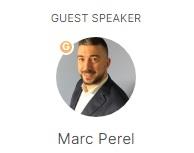 Marc Perel
Global Solution Application Manager @ Adisseo
Graduated in 1994 as an engineer in grain industries, he has more than 25 years' experience in feed and premix manufacturing. He works for Adisseo for 8 years (he started in the EAME region). During his career, he has had the pleasure of working in about 45 countries and more than 400 factories. His main driver today is definitely customers satisfaction about additives application in premix and feed plants.
We are organizing these webinars in two identical sessions so everybody has the opportunity to participate. One session for Eastern part: 9 AM (UTC+1, Central European Time), meaning noon in Dubai, 3 PM in Bangkok (Thailand), and 4 PM in Shanghai (China) or Singapore One for Western part: 5 PM (UTC+1, Central European Time), meaning 1 PM in Sao Paulo (Brazil), 10 AM in Mexico city (Mexico) and 11 AM in Atlanta (USA) We look forward to seeing you!.


Participants will be invited to post comments & questions during the webinar for further discussion with the speakers at the end of the session.
Source
Adisseo
Related topics
Mentioned in this news release: Would you like to discuss another topic? Create a new post to engage with experts in the community.
Create a post