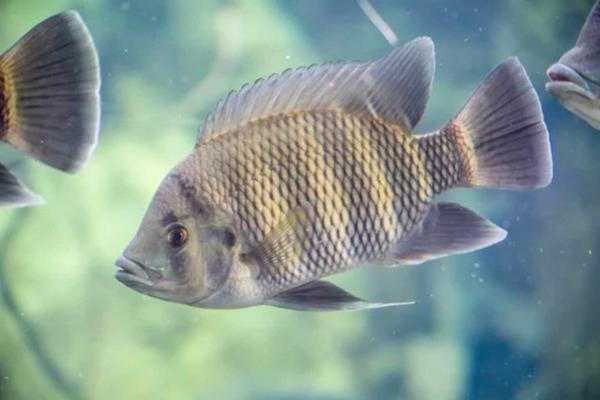 Physiological stress is one of the main contributing factors of disease outbreaks and reduced performances in the production of tilapia. Compared to the production of land animals, there are only a limited number of practical and cost effective disease treatment methods for aquaculture.
Therefore, good stress management practices are an integral part of preventing disease outbreaks early on, while limiting the chances of resorting to curative treatments. This article discusses the application of Selsaf, Phileo's organic selenium-enriched yeast, as an efficient functional feed ingredient to mitigates oxidative stress, boost antioxidant defenses and maximise production performances of tilapia.
The effects of stress
Adverse farming conditions and the stress that results from them are common in the production of Nile tilapia (Oreochromis niloticus). Factors such as water quality, including high temperature, ammonia, and low dissolved oxygen levels, as well as erratic weather events linked to climate change, algae blooms, high stocking density, low quality diets, or pollution, can all lead to acute or chronic stress in fish.
Stressful conditions tend to increase vulnerability to pathogens and parasites, thereby promoting physiological pro-oxidative responses. These responses are characterised by high levels of oxidative molecules that cannot be counteracted in the cells by the fish. Elevated amounts of oxidants (free radicals and reactive oxygen species, ROS) result in the oxidation of cellular components such as lipids, proteins and DNA. In turn, this affects animal health and performance by reducing feeding activity, impairing digestion, growth, and weakening immune and reproductive systems.
Subsequently, the effects of stress on the health, performance, and product quality at harvest can ultimately lead to substantial economic losses for tilapia farmers.
Fish can naturally cope with oxidative stress using compensatory mechanisms that protect their physiological stability – so-called homeostasis. However, the ability to maintain homeostasis under conditions of stress is highly variable between individuals and their genetic strain, biological stage, and health status. More importantly, these mechanisms also demand high levels of energy as well as some essential micronutrients including Selenium that must be provided in the diet.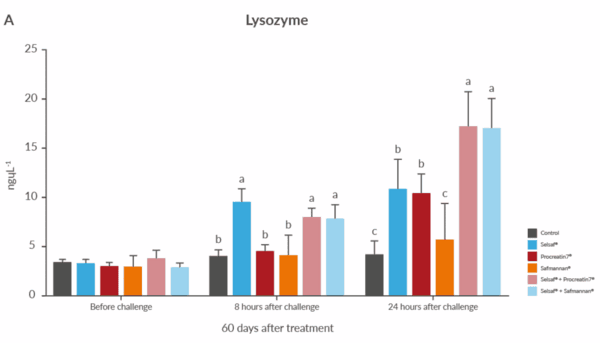 Figure 1: Serum activity of Nile tilapia lysozyme after 60 days of Selsaf® seleniumenriched yeast, Procreatin 7® yeast probiotic, Safmannan® yeast postbiotic, Selsaf® + Procreatin 7®, and Selsaf® + Safmannan®, before and after 8 and 24 hours of challenge with Aeromonas hydrophila. Bars indicate means and different letters above bars indicate significant differences between treatments at the same sampling time (p < 0.05).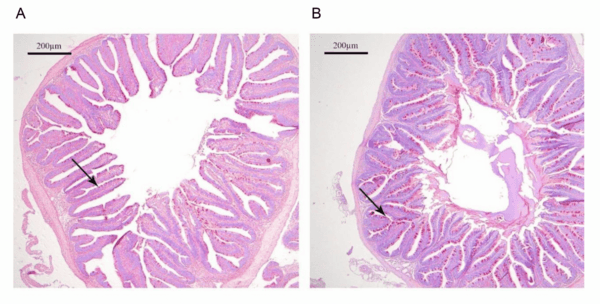 Figure 2: Anterior region of the intestine of Nile tilapia fed with yeast products for 90 days. Control group (A), Selsaf® selenium-enriched yeast (B). Arrows indicate goblet cells at the edge of the villi. Periodic acid–Schiff staining. Source: Silva 2019.
The role of selenium
Selenium is an essential micronutrient for the healthy development of fish which supports growth, development, and maintenance of the immune system. It is a key component of the enzyme glutathione peroxidase (GPX), an active antioxidant against ROS. This means that optimal levels of selenium contribute to conferring tolerance to environmental stressors and as such embody a protective role against pathologies associated with oxidative stress.
The improvement of immune function that results from selenium supplementation ultimately enhances performance and fillet quality, as it has been shown to boost growth and improve Feed Conversion Rate (FCR) and Specific Growth Rate (SGR) in tilapia. Because of these well-established benefits, selenium has been used in aquaculture as a balancing micronutrient to improve fish health and performance.
Oxidative stress management
Phileo developed Selsaf to address oxidative stress levels in tilapia. This organic source of selenium obtained from a proprietary yeast strain of Saccharomyces cerevisiae comprises of selenomethionine and selenocysteine. It is produced with high and guaranteed concentrations of selenomethionine.
Whilst selenomethionine is incorporated into body proteins as the main selenium storage and used as a precursor to selenocysteine, the latter is a key element for GPX's activity, thus playing an essential role against oxidative stress. Both selenomethionine and selenocysteine are absorbed through the intestinal wall, therefore allowing for maximum assimilation by the animal and enhancing its immunity. Ultimately, the product helps boost the animal's natural defenses. Adding the product to aquafeeds improves the overall health status of fish by stimulating their antioxidant defenses and their ability to be more resilient to environmental challenges, express better immune response in presence of pathogens and sustain growth during periods of stress. The product supplementation in tilapia feeds can also generate synergistic effects with probiotics and immune stimulants such as mannans and beta-glucans sources.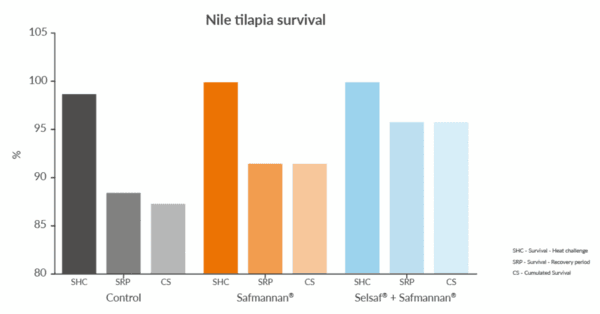 Figure 3: Combined supplementation of Safmannan® and Selsaf® improves tilapia survival during a thermal challenge and its recovery period.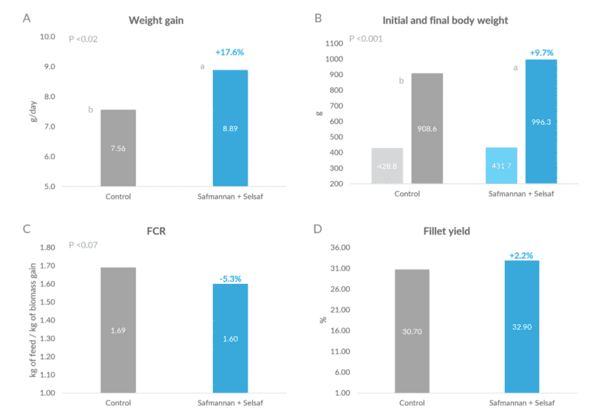 Figure 4: Zootechnical performance parameters of Nile tilapia supplemented with Safmannan® and Selsaf® for 60 days under commercial farming conditions in Brazil. (A) Weight gain (g/day); (B) Initial and final body weight; (C) Feed conversion ratio (FCR); (D) Fillet yield. Bars indicate means and different letters above bars indicate significant differences between treatments at the same sampling time. Source: Internal trial report.
Nutritional allies that maximise returns

A 90-day feeding study that assessed the potential of combining Selsaf with yeast probiotic and yeast postbiotic rich in mannan oligosaccharides and beta-glucans (Procreatin 7® and Safmannan, respectively) concluded the blend of solution improved growth performance and disease resistance potential in tilapia when challenged with inactivated Aeromonas hydrophila (Silva 2019). The groups supplemented with Selsaf expressed improved innate humoral immune response and reduced stress response throughout the trial. The groups supplemented with Selsaf + Safmannan, and Selsaf + Procreatin 7 demonstrated significantly higher lysozyme activity 8 hours after challenge and sustained higher response after 24 hours, demonstrating a synergistic effect on the anti-bacterial activity (Figure 1). Cortisol levels were significantly lower in all Selsaf supplemented group. Significant improvement in the average villi structure in the gut, higher nutrient absorption was also observed (Figure 2). Combined supplementation of Selsaf and Safmannan also proves to be efficient to improve resistance in fish under environmental stress. When facing a 14-day stress challenge with water temperature increasing from 29.0 ºC to 37.0 ºC (0.07 ºC/h), the combined supplementation improved fish survival during the thermal challenge and subsequent 8-days recovery periods (Figure 3). Another field trial tested the combined effect of Safmannan and Selsaf in tilapia raised in high fish densities in volcanic water with high sulfur content and low dissolved oxygen. Results showed that the combined supplementation improved survival from 26% to 31% and reduced feed conversion rate from 2.4 to 1.8, reducing feed cost/kg of produced fish by 20% and positively impacting gross margin by 12%. Finally, the combined supplementation of these two yeast-based postbiotics was evaluated in the grow-out phase on a commercial tilapia operation in Brazil, during a critical phase of water temperature increase.
The trial concluded that the functional feed strategy using Selsaf and Safmannan helped to increase daily weight gain by 17.6% as well as sustain better survival rates. FCR levels were reduced by 5.35%. Ultimately, fillet yield in the processing plant increased from 30.7% to 32.9%, generating net margin gains of 28.3% (Figure 4). This was a result of the higher revenue generated by increased productivity and reducing feeding costs.
Practical recommendations With the rapid development of tilapia production, there has been a concomitant increase of exposure to physiological stress, and of the health and production challenges that are associated with it. In many regions water and land constraints have forced intensification in semi-open systems such as floating cages in freshwater reservoirs and land-based earthen ponds where exposure to stressors such as pathogens, over-crowding and erratic weather events is high. Selsaf manages oxidative stress in tilapia, safeguarding fish from deleterious effects caused by these stressors. Supporting fish to overcome those challenges is essential to reach optimum zootechnical and economic performance and improve welfare conditions of fish farming. Additionally, combining Selsaf with probiotic and postbiotic yeast-based products represents a cost-effective and powerful solution to boost innate immune response in Nile tilapia. Based on the results obtained in lab and commercial trials, Phileo by Lesaffre provides a variety of the product recommendations accordingly to the stress challenges encountered and your own production objectives (table 1).