INTRODUCTION
Many tropical forages harbour anti-parasitic properties which may assist in the development of a cost-effective method of parasite control for resource poor farmers.
In particular, Canavalia ensiformis (jackbean) contains high levels of lectins, the purified form of which have been demonstrated in both in vitro and in vivo to have anthelmintic properties.
 This study investigated the effect of supplementation with canavalia seed on the performance and parasite status of West African male lambs that were naturally infected and maintained under foraging conditions.
AIM
To evaluate the possible anthelmintic effect of Canavalia ensiformis seeds on natural parasitism of foraging West African lamb, under tropical conditions
MATERIALS AND METHODS
Twenty West African male lambs that were naturally infected and maintained under foraging conditions in Venezuela were allocated to one of two treatments (n=10) for eleven weeks.
Treatments consisted of either a supplement of brewers grain at 2% of bodyweight of each morning (group C-) or the same supplement which also included 2g per kgLW canavalia[Canavalia ensiformis] seed (group C+). 
All animals continued to graze native forages and star grass [Cynodon nlemfluensis] during the day.
Animal live weight was recorded weekly in addition to the collection of faecal samples for the determination of the concentration of nematode eggs and oocysts in the faeces.
RESULTS
Canavalia supplementation increased liveweight gains from     -10 ± 9.2 g per d for C- animals to +21 ± 8.2 g per d for C+ animals (P=0.02), resulting in a 2.2 kg advantage in live weight in canavalia supplemented animals by the conclusion of the study.
Canavalia supplementation resulted in an overall reduction in the concentration of nematode eggs and oocytes in the faeces, with mean back-transformed values being 2020 and 1370 nematode eggs per g (P=0.002), and 2170 and 1430 oocytes per g (P=0.05) for C- and C+ groups, respectively.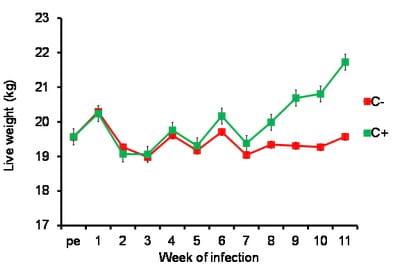 Figure 1. Liveweight of the lambs during the experiment that were  grazing naturally infected pastures while supplemented with canavalia (C+)  or not (C-).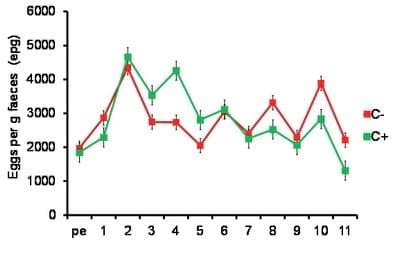 Week of infection
Figure 2. Concentration of nematode eggs in the faeces of animals supplemented with canavalia (C+) or not (C-).
CONCLUSION
Dosing with canavalia seed at this level provided a significant increase in animal performance that was associated with a reduction in the parasite status of the animals with no apparent adverse effects on the animals.
ACKNOWLEDGEMENTS
To the staff from the Laboratorio-Sección de Ovinos, Facultad de Agronomía-Universidad Central de Venezuela, for the support during the experiment.
For the financial support to assist to the WAAVP 2011: Postgrado de Producción Animal-UCV, Rectorado de la UCV, Decanato de Facultad de Agronomía-UCV and FONACIT.
This poster has been presented at the 23rd International Conference of the World Association for the Advancement of Veterinary Parasitology (WAAVP ), 21-25 August 2011 Buenos Aires, Argentina. Engormix.com thanks the authors and the organizing committee for this contribution.