INTRODUCTION
Early detection of mastitis is considered to be the best method to allow the cows the best chance for prompt recovery. Most farms base mastitis detection on visualization of clinical signs such as swollen quarters or altered milk. However, on large farms that have hired workers for milking it may prove challenging to have good mastitis detection. Therefore, new technologies are being constantly tested to automatically detect mastitis in the milking parlor.
MATERIALS AND METHODS
Milk meters equipped with conductivity probes (Afimilk, Israel) installed on a large commercial farm in Spain were used for data collection; every cow, every milking. Cows identified with mastitis by clinical signs (abnormal milk and/or swollen quarter) were evaluated as to their conductivity level (mmHO) and the deviation of that level compared to the average conductivity of the same milking shift during the previous 10 days. A milk sample was collected and submitted to a reference laboratory for identification of isolated bacteria before treatment was instated.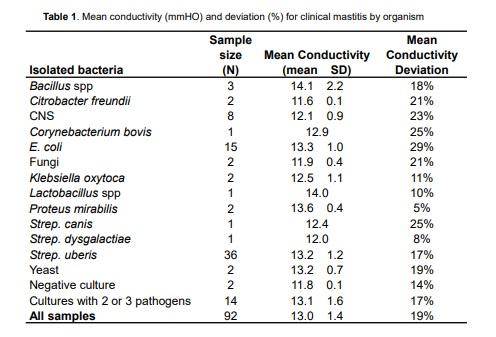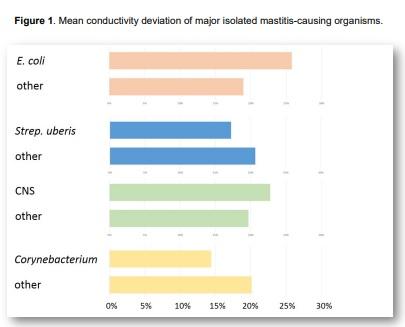 RESULTS
A total of 92 samples were included in the evaluation. On average, cows with mastitis showed a mean conductivity of 13.0 1.4 mmHO compared to 10.1 0.5 mmHO throughout the entire lactation of the whole herd (P< 0.001). Cows with mastitis showed a 19% deviation from the average of the previous 10 days. Variations were observed depending on isolated bacteria (Table 1 and Figure 1). Cows infected with E. coli had higher conductivity deviation (26%) than those infected with other bacteria (19%, P< 0.001). The deviation is evident in the lactation curve seen in Figure 2. However, there was no difference in average conductivity throughout the lactation between cows infected with E. coli and those infected with other bacteria (P=0.745). No other statistically significant differences were observed. Cows infected with other bacteria show an increase in conductivity, but the deviation is less evident (Figure 3).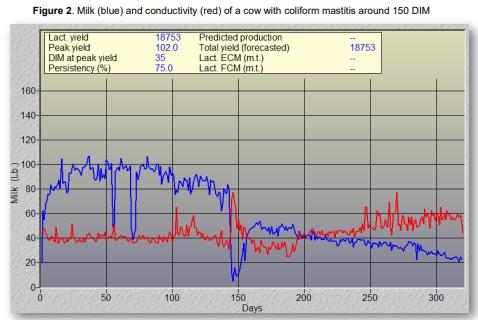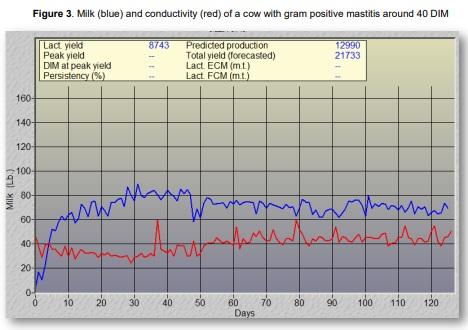 CONCLUSIONS
Conductivity can be effectively used to detect mastitis caused by coliform bacteria based on the deviation pattern from the average conductivity of the previous 10 days in that same cow. No breakpoint for detection is definitive, as the variation is specific to each cow. Further research is needed to evaluate what patterns better detect slow acting insidious pathogens.