Story by Jillian Ellison
Just over one third of the United States egg laying industry currently produces in cage-free environments, while companies pledge to use more ethically sourced ingredients in their production processes.
Keeping up with the increasing demand requires changing hen housing facilities. But to maintain production volumes, the hens must be comfortable and content, Darrin Karcher, associate professor in animal sciences and Extension poultry specialist, said.
With a $1 million USDA grant, Karcher and his team will reconstruct the environment for cage-free hens through the bird's eyes. The grant team includes: Patrick Zollner, professor of wildlife science, Marisa Erasmus, associate professor of animal sciences; Greg Fraley, the Terry and Sandra Tucker Endowed Chair of poultry science; Esteban Fernandez-Juricic, professor of biological sciences; and Deana Jones, a research food technologist for the USDA.
Since they can't sit down with an egg laying hen to ask her what her ideal environment would be, Karcher explains that creating a model of a hen's retina to show how the bird sees its surroundings is a step in the right direction.
"What we do know about hens' environments up to this point has been based off preference study," Karcher said. "Looking at whether they used the box with AstroTurf or straw, we aren't accounting for how the hen sees the actual boxes. What about the shadows? What about the color? Behavior and welfare advocates have tried to account for as much as possible, but we need to look at the entire environment for the hen. Little work has been done to analyze how poultry see their environment."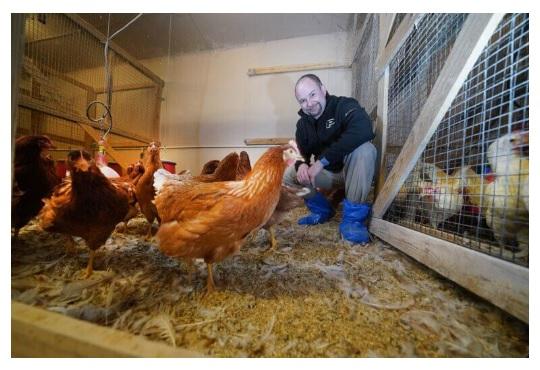 Karcher said one of the things the research team must consider is how changing a hen's environment will affect producers daily. They will look at the two extremes of the cage-free housing systems used in the egg laying industry: a single tier or the more complex, multi-tier system with various accesses to navigate.
"We'll be pulling data from those environments in terms of production, welfare, behaviors and space utilization, which will all go into computer modeling," Karcher said. "Once we develop a visual model, we can look at how its designed as well as further detail such as color. We could run an entire simulation where all the perches are red to see how the hens respond."
After running numerous computer models, Karcher said the team will identify the most valuable outputs they're searching for, narrowing them down to the two or three best simulations. The next step is to turn those simulations into reality, physically building the environments to "run" the hens and compare the outcomes.
"Each company's goals are different, but, in general, most are going to maintain a high level of hen well-being and look at maximizing production," he said.
Karcher said the number of farms converted to cage-free in the next few years will continue to increase, and he wants to continue helping push the industry in a better direction.
"I'm not a status quo guy; I do not accept that the way we do things today is how things will be forever. I want us to continually challenge what egg production will look like in 25 years," Karcher said. "This work we're doing is the first stone among many others that needs to be laid on the path to the future."
To read the entire report and watch a related video, you can click here.