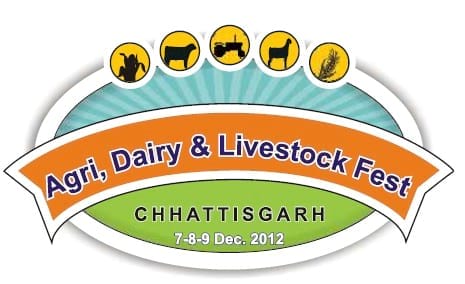 Chhattisgarh's first and biggest expo on Agriculture, Dairy and Livestock sector in collaboration with Ministry of Agriculture and Animal Husbandry, Chhattisgarh and Dairy Farmers Association, Chhattisgarh. The expo is scheduled to be held for 7,8 & 9 December 2012 at BTI Ground, Raipur, Chhattisgarh, India. The aim of the exhibition is to promote Agriculture and Livestock Entrepreneurship among farmers.

This exhibition will attract visitors from Chhattisgarh as well as farmers from adjoining states like Madhya Pradesh, Maharashtra, Uttar Pradesh, Jharkhand, Andhra Pradesh, West Bengal, Orissa and other parts of country. In this show, different Technical seminars and Workshops will be organized by Department of Agriculture and Animal Husbandry respectively along with Exhibition regarding Horticulture and Agriculture Equipments and Implements, Farm Machinery, Product Technology, Garden Tools, Irrigation, Agri Input, Farm Tyers and Livestock Farming Equipment. The Agriculture Department and various private organizations are sponsoring this show. Agri, Dairy and Livestock Fest - Chhattisgarh is where you can get the most out of the opportunities and gain you market share. It is the time to join our exhibitors to make Agri, Dairy and Livestock Fest - Chhattisgarh a preferred platform network, build new partnerships and generate new business opportunities.
Vision:
1. Agri, Dairy and Livestock Fest - Chhattisgarh to be the must attend event for dairy and agriculture farmers and entrepreneurs . To create a new wave in agriculture and livestock industry as a whole.
2. Agri, Dairy and Livestock Fest - Chhattisgarh to serve as a platform for farmers, companies, producers, organizations and all agri, dairy and livestock professionals to gather under single roof annually to share knowledge, technology and innovations.



Exhibitor Profile
Agri, Dairy and Livestock Fest - Chhattisgarh draws in more than 75 professional exhibitors, looking to showcase a wide collection of agricultural products and related equipments. Some of the main items of exhibit at the show are:
Agriculture
Agriculture Spare Parts
Agro Chemicals
Biotechnology
Cold Storage & Refrigeration
Farm Machinery
Fertilizers and Pesticides Manufacturers
Insurance Services
Financial Institutions & Banks
Fodder Machinery
Government Departments
Green House Technology
Harvesting Machinery
Horticulture / Floriculture
Information Systems
Irrigation & Water Management Systems
Marketing & Export Services
Marketing Organisation
Nodal Government Agencies
Organic Agriculture
Plant Protection
Planting Equipments
Postharvest Treatment
Pump, Motor, DG Sets
Rain Water Harvesting
Rural Development
Seed Manufactures
Seeding and Seed Cleaning Equipments
Silos and Warehouses
Soil Processing Machinery
Sprayers
Storage Equipment & Silos
Technical Magazines and Publication
Threshers
Tillage Machinery
TMR Wagon
Tools Pumps ad Motors Manufacturers
Tractor


Dairy & Livestock
Agriculture and Animal Sciences Institutes and Universities
Animal Nutrition Companies
Animal Pharmaceuticals
Automation and Software Solutions Provide in Dairy
Breeding/AI and other Veterinary Equipment
Cold Chain and Refrigeration Technology
Dairy Farm Machinery
Dairy Farming Equipments
Dairy Processing Machinery
Disease Diagnostics Equipment
Feed and Feed Additives Manufacturers
Visitor Profile Visitor Registration Agri, Dairy and Livestock Fest - Chhattisgarh boasts of more than 3000 interested visitors.
Agricultural Departments and Agro Industry Corporations
Agriculture Universities & Research Institutions
Agriculturists/Farmers
Agronomists
Centre & State Government Agencies and Departments in Agriculture, Horticulture,
Livestock, Warehousing.
CEOs & Senior Managers of Indian Companies/MNCs.
Dairy Farmers
Dairy Owners & Producers
Distributors
Distributors/Manufactures/Suppliers of Food & Dairy Equipment.
Engineers & Technicians
Farm Contractors, Garden Contractors
Farmers/Progressive Farmers
Government Representatives
Grampanchayat
Heads of Municipalities
Horticulturists & Floriculturists
Krishi Vigyan Kendra's Heads
Livestock Farmers
Marketers
Officials from MP State Co-Operative Marketing Federation Ltd./Warehousing & Logistic
Corporation/Agriculture Marketing Board.
Poultry Farmers
Professional Consultants
Project Managers
Public, Private Sector Banks, Cooperative Banks and Financial Institutions
Trade Counsellors from embassies
Researchers
Researchers, Educators & Scientists
Seed & Fertilizer Traders, Whole Sellers, Retailers & Certifying Agencies.

Highlights Activities:
1. Inauguration Ceremony
2. Exhibition
3. Technical Sessions and seminars
4. Innovative and other farmers award ceremony