International Production & Processing Expo

Exciting times are coming to Atlanta, Georgia, the week of January 28 - February 1, 2013, with the integration of three internationally recognized trade shows joining forces to bring suppliers and buyers together for education, technology exchange and networking encompassing the entire spectrum of farm to table.

The combination of the International Poultry Expo (IPE), International Feed Expo (IFE) and American Meat Institute's International Meat Expo (IME) will bring in over 25,000 attendees from over 100 countries and over 1,000 exhibitors. The week will feature educational opportunities every day. In addition, the trade show, being held January 29 - 31, is anticipated to feature over 400,000 net square feet of exhibits, placing the show in the top 50 of all trade shows in the United States.

The addition of the American Meat Institute's (AMI) International Meat Expo will expand the number of processing, further processing and packaging suppliers to the show. Additionally, AMI will be adding several educational programs that week to complement the sessions being offered by the U.S. Poultry & Egg Association and the American Feed Industry Association.
To see the IPPE 2013 Educational Programs, click here
To see IPPE Schedule At‐A‐Glance, click here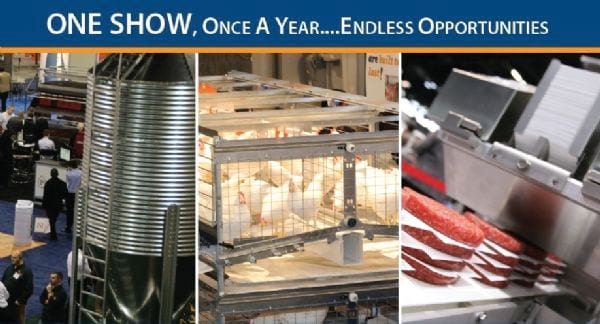 Networking + Education= Return of investment
The show provides an excellent opportunity to see the latest developments and technology, get training and updates through the educational programs, and to network and meet people from all over the world to exchange experiences and ideas. This year will feature two networking receptions. On the opening day of the show (Tuesday, January 29), there will be a reception from 4 - 6 p.m. on the floor of the show. On Wednesday, back by popular demand, there be a reception at the Georgia Aquarium, the world's largest enclosed aquarium.